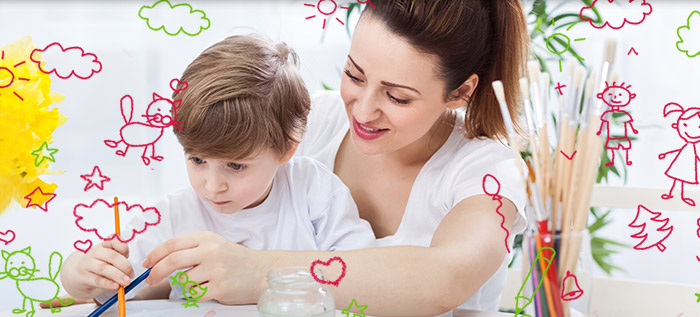 Play with salt dough
Salt dough is a flexible material that you can make with staple products available in every household. Its base ingredients are salt, flour and water. Proportions:
1 cup of salt
1 cup of flour
125 ml of water
Mix ingredients well, like a dough. Start the play. Salt dough can be used to create figures, picture frames, imitations of objects used for games and plays. After you create your objects, they can be colored with paints.
Puzzles, jigsaws
It's a play you can never get enough of. When the completed picture is no fun any longer, we can make puzzles ourselves. All you need is a picture to cut to pieces – you can even use your kid's self-painted one. Putting it together will make a great entertainment.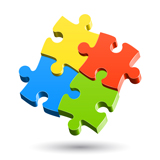 Domino, coloring books
Coloring is a kid's favorite pastime. And if you let them do that with their little fingers, it will make it an extra fun. Equip your child with an apron and, if in bed, cover the bedding with a blanket so it will not get stained. The pictures your child will create can become a part of a beautiful gallery of works.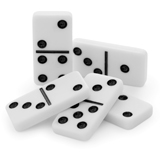 Cut-outs, collages
All you need is old newspapers and color magazines, scissors and glue. You can also use old buttons and a bit of yarn. You will create 3D pictures that will make a wonderful decoration of your kid's room.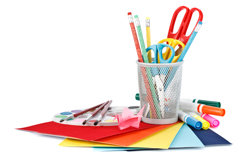 Theatre play
A hand-made puppet is a toy that gives extra fun factor to a play. In order to make it you will need some yarn, scraps of fabrics, buttons and sticks. The sticks will make the main body of the puppet. Use some fabric to form a head at the top of it. Attach eyes using buttons and hair using yarn. You can dress your puppet, e.g. in a red cloak so it becomes the Red Riding Hood.
Using several puppets made with the above instructions you can start your own mini theatre play. Use carton box to prepare the stage. Decorate it using crayons or paints. Cut out a widow and attach curtains using scrap fabrics. Think of the scenario for your play and off we go!
Hand-made beads jewellery
Its an activity for a little lady. You can shop for a wide range of jewellery sets available in stores. They contain plastic beads in all shapes and colors. You can make endless combinations making unique shapes and patterns – your bracelet or necklace will be the only of its kind.
You can also use buttons that you will find at home. In the fall you may use rowan from the nearby park.
Tales, stories, going through family photographs
The time when your kid needs to stay in bed is a good moment to use their imagination and tell stories and tales. Apart from the standard ones, you can use your imagination and invent new stories – you can add threads taking turns. The threads will make a story whose ending will be an extra surprising element.
It is also a perfect moment to tell your kid about their ancestors – every family has stories that can be passed on from generation to generation. They make interesting stories that educate, entertain and strengthen family bonds. The stories may be accompanied by going through family photos – it is an interesting way to share memories.
Association game, rock-paper-scissors
Association game is an interesting way to boost your kid's creativity. It stimulates memory, range of words, teaches new phrases. Another good idea is the popular game rock-paper-scissors. It develops motoric skills, improves physical reflexes and above all, gives lots of fun.
Baking cookies, cooking together
When your child does not have to stay in bed any longer, you can offer them kitchen entertainment making delicious dessert together. Let your kid be independent – hand-made cookies taste best. You can also go for fruit salad – your kid can cut soft fruit with plastic knife, add their favorite ingredients to finally munch them.
Important! Parents should supervise children keeping them safe during the games, plays and other activities.